Overview of the Paths and Trails Plan
Background
There is currently a development application before council to turn almost all of the southern precinct of Cooks Cove into a golf course. It's about half a square kilometer of land in the east of Arncliffe and Banksia. The area has playing fields, bicycle paths, walking trails, wetlands and lots more. The area is also known as Barton Park, although Barton Park is only part of it. There is a golf course to the north of it, next to International Airport, operated by Kogarah Golf Club. But the plan is for the club to move to the southern precinct and for the current golf course site to be turned into apartments. It's outrageous stuff involving unbelievable destruction of both infrastructure and natural lands. I have a whole web site dedicated to documenting this proposal.
I am also a member of a group called Save Barton Park. We are putting an alternative proposal to council which will enhance rather than destroy the park. I have also contributed to this proposal.
Part of this proposal is the paths and trails plan. This HTML version which is closely based on the official version has complete text but not much in terms of pictures.
Please note: This is not the Rasmus Torkel plan. It's the Save Barton Park plan. I am merely a contributor.
This page
Here I am trying to present the plan with more photos. I want people to know that this plan is not some sort of crazy fantasy. We have spent countless hours on it.
The area has some little known parts that are easily missed. Even people who do use the park may well be unfamiliar with those parts. There is a lot of potential there and I want people to know and value the less-known parts.
This page is a work in process, so if you want to see the complete plan, read the HTML version which is closely based on the official version. However, the bike path component of the illustrated plan is complete (which doesn't mean that I will not continue to tinker with it). Most of the work on the trails is also done.
One more time: I don't own the plan, Save Barton Park does. But the group has agreed to let me produce and publish this illustrated version, so the additional pictures and text are mine.
The Plan on the Map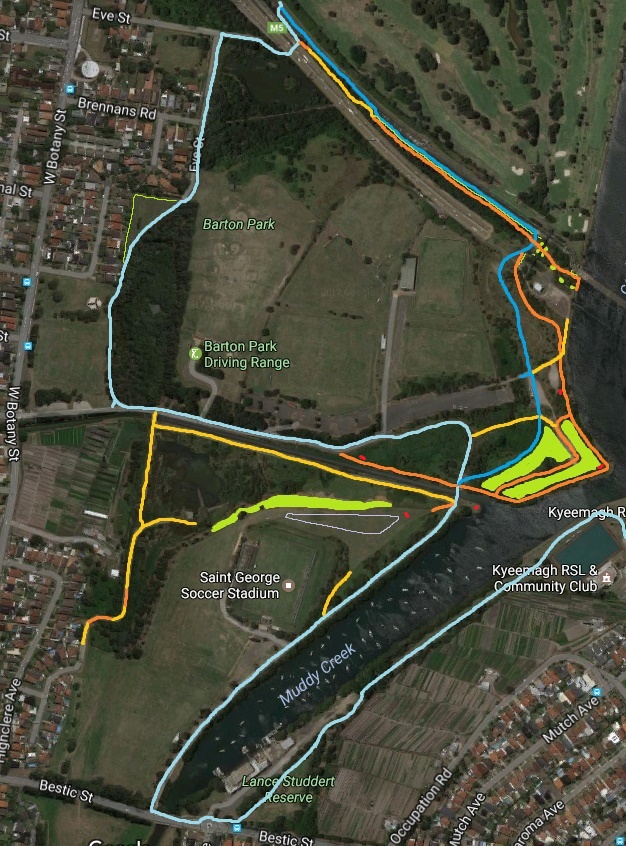 Existing Bike Path to Remain
New Trees and Other Plants
Proposed Off-leash Area for Dogs
The diagram above is fairly rough and should not be taken to be exact to the nearest meter or pixel