Breaking News: The Sydney Morning Herald had obtained a draft document, apparently inofficially, strongly suggesting that the F6 will go into a tunnel, although according to the Roads Ministry, such a decision has not been made. See links.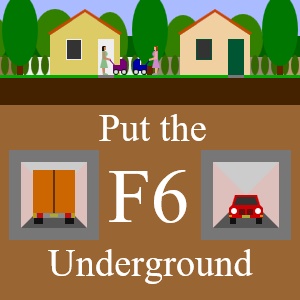 Overview
The NSW goverment is in the early stages of investigating options for the F6, a motorway that would go through the St George area north to south. Ground conditions are already being tested. And it is in Scarborough Park that those tests are taking place, indicating a route running parallel to and in between Princes Highway and the Botany Bay foreshore.
I have made enquiries with Roads and Maritime Services and the decision on whether the road is to be in a tunnel, on the surface or on a viaduct has not been made.
A surface or viaduct road along the planned corridor would be disastrous and destroy or compromise an enormous amount of important parklands. That's why I have decided to campaign for the F6 to be put into a tunnel.
Two important aspects need to be covered here:
The F6 has been a proposed road for decades and drawn into street directories as such. My wife and I knew that when we bought our house in 1994, so why am I making a fuss? The reason is that densities in the St George area, like in most other areas of Sydney, have increased greatly and are continuing to increase. Therefore there are more people using the green spaces and playing fields. And so we are less able to afford their loss than we were in years gone by. Also, more people live in apartments than before, and they obviously have a greater need for access to parks than people in houses with backyards. Many of us who have houses have had our streetscapes and views compromised by greater densities and highrise buildings and it is fair enough that our parklands are preserved as some sort of compensation. It also important to consider the well-documented ecological significance of the wetlands in the F6 corridor.
Should we campaign for the F6 not be built at all? No. That would be likely to be futile. We would probably be regarded as extremists or nimby obtructionists. I have taken an interest in the Westconnex issue and the "Stop Westconnex" campaign has not succeeded. A "Stop the F6" campaign would be likely to be equally unsuccessful. We should campaign for the best possible realistic result. And that's a tunnel. If it's done properly, this could be a benefit to St George residents as it would remove through traffic from the surface.