Kingsgrove
Below is a picture of the Kingsgrove tunnel and smokestack situation. To avoid issues with WestConnex copyright, I drew it with Microsoft Paint onto a Google Maps screenshot. For the original WestConnex map, go to https://www.westconnex.com.au/map.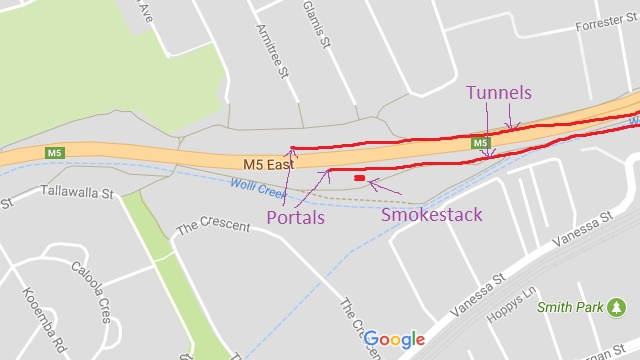 In Kingsgrove, the smokestack will be 30 meters high. The WestConnex map and the documentation we received on October 16 show a different stack position. I have asked for that to be clarified (after the October 17 meeting, there was not enough time to absorb every detail of the October 16 notes before the October 17 meeting)
The locations that the project team proposed for the air quality monitoring stations were outside the zones of greatest increase in pollution. But at least some were near the portal.
A Kingsgrove resident put forward the council car park at Garema circuit. That idea was well received. It is in my opinion better than any of the other proposed locations.