Kingsgrove
Below is a picture of the Kingsgrove tunnel and smokestack situation. To avoid issues with WestConnex copyright, I drew it with Microsoft Paint onto a Google Maps screenshot. For the original WestConnex map, go to https://www.westconnex.com.au/map.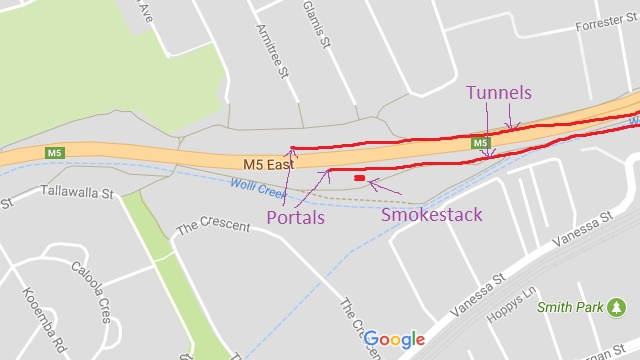 In Kingsgrove, the smokestack will be 30 meters high. The WestConnex map and the documentation we received on October 16 show a different stack position. I have asked for that to be clarified (after the October 17 meeting, because there was not enough time to absorb every detail of the October 16 notes before the October 17 meeting)
The locations that the project team proposed for the air quality monitoring stations were wholly or partly outside the zones of greatest increase in pollution (it sometimes depends on the spot within a site). But at least some were near the portal.
The locations of greatest interest are all on the Canterbury-Bankstown side of Kingsgrove.
Garema Circuit car park
A Kingsgrove resident put forward the council car park at Garema circuit. That idea was well received. It is in my opinion better than the locations proposed by the project team, with the possible exception of Canterbury Golf Course. The car park is owned by Canterbury-Bankstown Council. The western side of the car park is more impacted by air pollution than the eastern side, according to the modelling. It is important that Canterbury-Bankstown Council works with the project team so that if that site is chosen, the monitoring station goes on the western side.
I, as a resident of the Bayside Council area, have no standing to follow up on that. But there are at least two residents from the Canterbury-Bankstown Council side on the AQCCC as well as a representative of Canterbury-Bankstown Council. Also, a parking spot or two may need to be sacrificed for the monitoring station. I recommend that the residents, and not just the representatives on the AQCCC, let Council know how important they think it is to pick the right locations for the monitoring stations.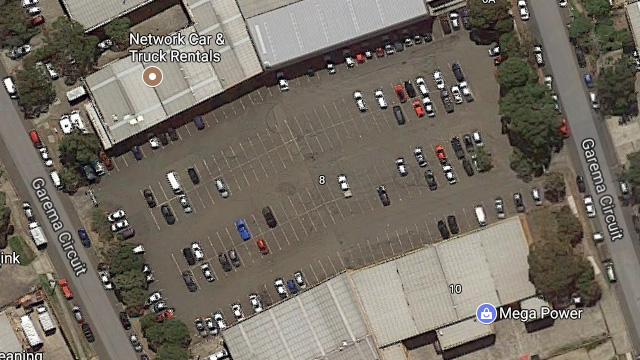 Canterbury Golf Course
The project team put forward Canterbury Golf Course as a possible location. The land is owned by Canterbury-Bankstown Council. No exact location was proposed. At the Rosebank Avenue end, the modelling shows relatively high impact. But other parts of the golf course are too far away. I have taken a photo of a spot right next to the golf course at the bottom of Rosebank Avenue which seems suitable. I proposed that spot to the AQCCC organisers on Sunday, October 29. The project team has expressed a willingness to investigate this possibility even though I submitted it a little late.